The COVID-19 pandemic has had a profound impact on society, disrupting economies, straining healthcare systems, and altering daily life. Additionally, the emergence of Long COVID has further compounded the societal impact, as individuals experiencing persistent symptoms face ongoing challenges to their health, workforce participation, and overall quality of life.
"Long COVID" is the condition whereby affected individuals do not recover for several weeks or months following the onset of symptoms suggestive of COVID-19, whether tested or not. The name "long COVID" was created by the people experiencing it in the Spring of 2020 to describe their journeys of not recovering. Since then, multiple definitions have been created by various countries and institutions.
Lack of a clear and common definition can lead to misdiagnosis and underreporting, inconsistent patient care, challenges in research, lack of clear public understanding, challenges for disability and insurance claims, as well as inequitable treatment and care.
In 2022, the U.S. Government created a working definition for Long COVID in an effort to provide clarity and consistency. In order to understand the impact that this definition was having and to examine if the definition would benefit from updates, the Administration for Strategic Preparedness and Response and the Office of the Assistant Secretary for Health, asked the National Academies of Sciences, Engineering, and Medicine (National Academies) to convene the Committee on Examining the Working Definition for Long COVID.
The National Academies' Standing Committee on Emerging Infectious Diseases and 21st Century Health Threats was charged with developing a workplan and engagement process for examining the current USG working definition of Long COVID and related technical terms. EnSpark Consulting was contracted to develop the plan and run an engagement process, as well as provide analysis of the data collected.
Longtime collaborator; EnSpark Consulting, brought me in to be the Engagement Design Lead and work together with the client to develop the overall Stakeholder Engagement Plan which included clarifying the purpose, objectives, success criteria, participant involvement criteria, selection methodology, engagement activities, data collection methodologies, as well as provide guidance on communications & outreach plans.
Clear objectives and outcomes were critical to establish so that appropriate stakeholders could be engaged in meaningful engagement activities. Success criteria and measurements were identified for both the content that we gathered and the process that we followed. Participant diversity and being inclusive and responsive to their needs and experiences were important criteria we strived for. We sought out participants that had direct expertise with Long COVID / post COVID conditions as well as those with lived experience (patients and caregivers). In addition, we wanted to ensure participation of those in communities that are disproportionately disadvantaged and underserved.
Once the plan was developed we immediately moved into execution mode launching a questionnaire and running seven, 2.5 hour, facilitated Virtual Focus Groups eliciting input from invited stakeholders on the key issues, concerns, and areas of improvement of the current interim definition. During the execution phase, I was the Focus Group technical producer and continued to advise on stakeholder selection, outreach, & communications.
In all we had 1,181 responses to the questionnaire, which was available from April 19 – May 12th. 134 people participated in the focus groups held in May and April of 2023. Focus group participants were primarily researchers, patients, patient organizations, clinical practitioners and/or organizations and public health agencies. Participants also represented health policy and or advocacy organizations, health insurance companies, companies providing health care benefits, health industry businesses, caregivers, and others.
Participants represented a wide range of identities, either personally or through whom their organizations serve with strong representation of women, people with disabilities, people from low-income communities, elders, latin/x people, LBBTQ+ people and black people.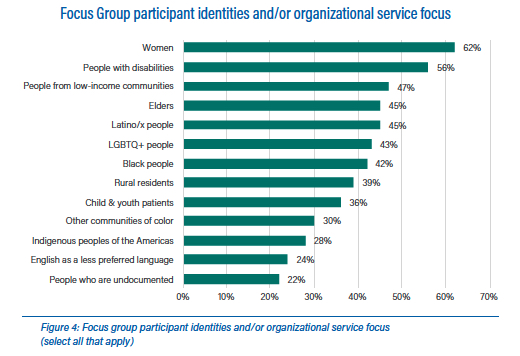 Participant feedback on the process was highly favorable with an average of 94% of participants strongly agreeing that: they were able to sufficiently express their views, learn from others, discussions honored participants' lived experiences, were balanced, facilitators were unbiased, and they understood what would happen with the input provided.
Focus group participants said about the process:
"This was an excellent exercise and great discovery mechanism to help us better define complex future health issues"
"Thank you for the opportunity to learn and understand a difficult problem"
"Thank you for including our voice".
---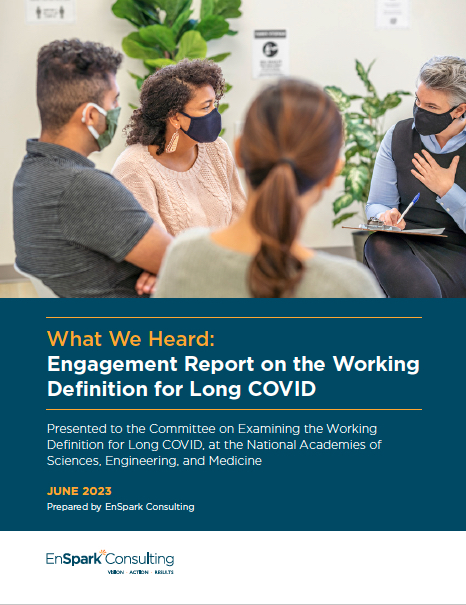 To read about what we heard you can download and read the Engagement Report on the Working Definition of Long COVID. This report was presented to the Committee on Examining the Working Definition for Long COVID, at the National Academies of Sciences, Engineering, and Medicine in June of 2023. It will be used to further inform work being done to improve the U.S Governments working definition of Long COVID.
EnSpark Consulting. 2023. What We Heard: Engagement Report for National Academies of Sciences, Engineering, and Medicine Committee on Examining the Working Definition for Long COVID. Washington, DC.