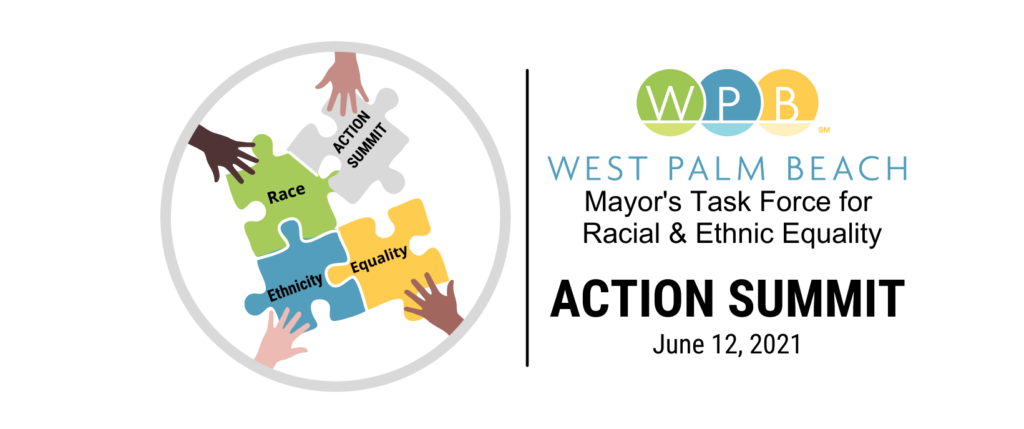 Starting in 2020, The City of West Palm Beach (WPB) began an effort to help address issues of racial and ethnic inequality that exists in their community. The mayor formed the Task Force for Racial and Ethnic Equality and hired Justice and Sustainability Associates (JSA) to manage the process. A critical component of the effort was to engage the community to understand where inequalities exist and articulate strategic activities to work through and overcome these challenges.
JSA identified two opportunities to engage the community and called on Collaboration Arts to provide our Collaborative Community Conversation technology to help facilitate these efforts. The first opportunity to engage the community was at the WPB Racial & Ethnic Equality Action Summit held in Dec of 2020. The design of this meeting gave participants the opportunity to discuss, identify and prioritize inequalities they experienced or were aware of in the areas of:
Criminal Justice
Health
Real Estate & Housing
Finance Banking & Business
Education and Workforce Development
This Virtual Summit was held on Zoom and included multiple facilitated small group breakout sessions where participants were in dialogue about their ideas and suggestions for each of these areas. In real time, breakout room facilitators sent their ideas on to a "Theme Team" that distilled out the key themes and suggestions from across all the discussions. Participants were then brought back together and were presented with summaries of their conversations and were given the opportunity to prioritize their suggested next steps.
The priorities identified by citizens at this first Summit were considered by the Mayor's Task Force on Racial & Ethnic Equality working groups and guided further research and outreach. Summit participants' ideas to address community inequalities were integrated into the Task Force's draft recommendations for policy shifts.
This type of open communication with government is 100% effective and respected by residents within the community. Great summit truly appreciated.

Summit Participant
On June 12th of 2021, the public was invited back for a second Action Summit with the primary goal of getting their feedback and support for the recommendations. Secondary goals for the Summit included:
Creating an accessible, transparent, and inclusive space for learning and sharing knowledge
Building trust and participation in the civic engagement process
Like the first Summit, this was conducted using the Zoom platform which allowed for facilitated breakout sessions. This time, six in-person satellite locations were included along with online participants. In all, there were more then 350 participants throughout the four-hour hybrid meeting. Again, participants spent much of the time in dialogue about the recommendations offering support for issues they felt were on target, and important ideas that were missing for each of the 5 topic areas. Each of these discussions was captured, themed, and presented back to the full group. Participants were then able to prioritize the top additional issues the Task Force should work on.
At no time was there any disruption, grandstanding or confusion that is common at many community meetings. The input from this second Summit was used to finalize the recommendations of the Task Force. The process of engaging citizens at these two Summits proved to be effective and respected by participants. Collaboration Arts appreciates its collaboration with Justice and Sustainability Associates to deliver these kinds of experiences to communities.
Kudos to Mayor James and the Task Force. These topics are a clear indication that the right conversations are being had during your collaborative meetings. As a native of West Palm Beach, I appreciate these types of forums and look forward to doing my part to support the development of my city.

Long-time resident, West Palm Beach